We specialize in SEO in the private label industry (everything from CBD to skin care) and drop shipping. Many of our clients come to us with large budgets for their Facebook ad spend, but generate relatively small amounts of organic traffic. Here are some of the results that we have achieved for clients that have worked with us in the past.
---
Example 1 - Private Label Skin Care
This is an example of a client who had relatively flat traffic growth over the previous year. With link building, new SEO pages, and title/meta updates, as well as keyword-based categorization and sub-categorization, we were able to achieve positive traffic results for them, as well as improved transactions from all marketing channels across the website. The client spends around $2,000 per month on Paid Search and Facebook ads, but the increased in organic traffic has resulted in more transactions on the website.
---
Example 2 - Private Label Supplements
Selling products on your website is difficult if you don't have a website that is search engine friendly. This private label business came to us with a Shopify store that was i-framed into a Wordpress website. We migrated this website 100% over to Shopify and started seeing an immediate increase in organic traffic and transactions.
Ever wanted to see leads for $5? We were able to get leads for $4.75 in a campaign that we did in the pharmaceutical space. By targeting diabetes, and diabetes awareness, we were able to get leads to participate in a local pharmacy program. See our results below. In fact, one of our audiences in the campaign ended up getting registrations that only cost $3.00 per conversion.


Example 4 - So You Want To Market Your New App
App marketing is difficult and costly to implement. You need to have a developer that knows to install the Google and Facebook SDKs. Getting purchases in an app is even more difficult. Your asking people to download a product that they need to learn how to trust before they make a purchase off of it. In the healthcare space, the cost per app install, globally, is around $5. We were able to get app installs on both Android and iOS for just under $4.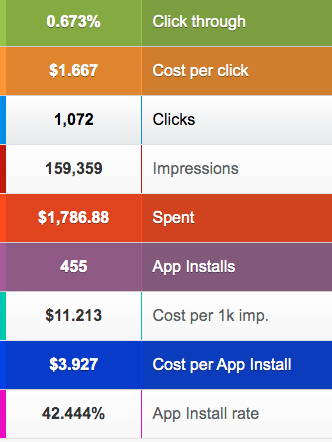 Example 5 - Spend $1,000 & Make $20k Back
Paid Search, if used in tandem with other traffic sources, can be an excellent converter. We spend a little bit of money on other traffic sources, but we are using display ads, shopping ads, and keyword-driven ads to maximize our visibility online. The results are shown below.